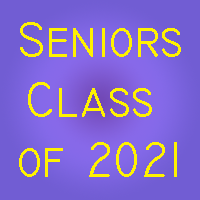 In these current times we are needing to be more creative than ever in how we recognize our Seniors and the traditional lead up of events that culminate with Grad Night.
Our goal is to provide safe & sober ways to celebrate and honor the class of 2021.
Due to Covid-19, we are uncertain at this time what events we will be able to host in person such as Senior Ball Breakfast, Baccalaureate and Grad Night. If State and County guidelines prevent us from organizing our traditional events, we will find other ways to recognize the Class of 2021.
Some of these would include a virtual Baccalaureate, yard signs for each student, a virtual raffle, etc. We cannot plan these celebrations without financial support from the parents so please purchase your ticket today.
It is ideal to sign up early, as prices will increase over time. Ticket pricing is as follows:
- Ticket before October 1st: $170
- Ticket before April 1st: $190
- Ticket April 1st and beyond: $210